New CBS Show The Defenders review and trailer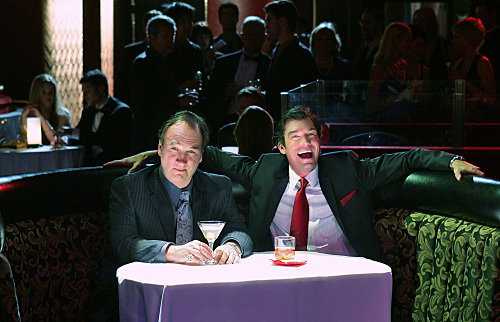 Coming out on CBS this Wednesday September 22nd, 2010 will be a new show called The Defenders. It will star Jim Belushi, who acted on the hit TV series "According to Jim". He had great success with that show and now is starring in this new, upcoming series. It also has Jerry O'Connell who is best known for his hit TV show series Sliders.
This show is a comedic drama about two defense attorneys in Las Vegas who will do anything it takes to defend their clients. Nick Morelli (Jim Belushi) and Pete Kaczmarek (Jerry O'Connell) lead their own law firm called Morelli & Kaczmarek. Nick is one of those guys who whether it be a big case or small, he will do whatever it takes to represent his clients to the best of his best ability. Pete, who is the younger of the two, loves his cars, expensive clothing and beautiful women. In their growing practice, they have a new associate Lisa Tyler (Jurnee Smollett) who joins the team and is trying to get over her exotic dancing days. They also have their young assistant, Zoey(Tanya Fischer) who is a young, sweet woman who is trying to impress her bosses.
The show focuses on Nick and Pete, and how they have to juggle both their growing law firm, and their personal lives. Nick is trying to juggle his work and repair his marriage to his estranged wife and take care of his son. While Pete is young, having fun and cruising the Vegas strip trying to find some romance.
After seeing the trailer for this show it looks really good. It has some potential to become a hit series. I like how they got Jim Belushi and Jerry O'Connell to be the main stars in it. It looks like they have the on screen chemistry to make this show a hit. Jim is the comedian, if you haven't all seen him on According to Jim, you should check it out! That is his most recent on screen success. He was on the air for eight seasons with that show and also executive produced it. Jerry O'Connell has had success in movies and his own TV show series Sliders. Both these guys are proven actors in the industry. I think for this show to have success, they are going to have to need a solid group of writers who can make good story lines and be able to attract viewers to watch it.
I definitely recommend this show to anyone who is interested in a comedic drama / law show. This show is a lot different than those CSI and Criminal Minds shows where its a lot more serious. This show has that comedic side to it. It premiers on the air Wednesday September 22nd at 10pm, I personally can't wait to check it out.
Here is the trailer below check it out: