The Town (2010) Movie Review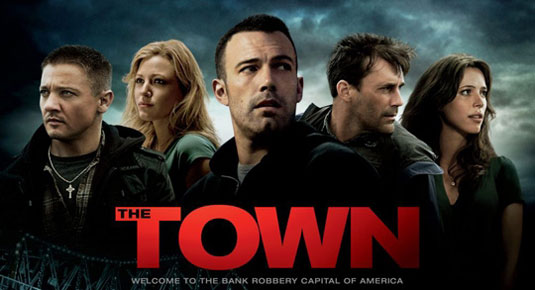 Last night, I went to see the new movie "The Town" with a couple friends. The Town was released on Friday September 17th, 2010. The movie is directed and written by Ben Affleck. The cast of the movie is Ben Affleck (Doug MacRay), Rebecca Hall (Claire Keesey),  Blake Lively (Krista Coughlin), Jeremy Renner (James Coughlin), Pete Postlethwaite (Fergus "Fergie" Colm), Chris Cooper (Stephen MacRay) and Jon Hamm (FBI S.A. Adam Frawley).
Ben Affleck became well known in 1997, when he and his longtime friend Matt Damon co - wrote the screenplay for the movie Good Will Hunting. They both received an Oscar for Best Orginal Screenplay. Throughout his career, Affleck has been in many successful movies like Armageddon, Pearl Harbor, Changing Lanes and Daredevil. After coming out with some successful movies, he didn't do so well with the releases of Gigli in 2003 and Surviving Christmas in 2004.  Affleck's career went down a bit and we didn't hear much from him. Then he made some of a comeback with the critically acclaimed movie Hollywoodland. I thought Hollywoodland was a good movie.  Then Affleck took some time off and now has come out with this action, drama called The Town.
Affleck has said that he really likes to give opportunities to up and coming actors in the movies he directs.  He prefers it over going out and bringing in a star cast. I feel that's a great idea, as he is giving opportunities to up and comers who might not otherwise get that shot to be in a big budget movie right away.
The movie is about, Doug MacRay (Ben Affleck) and his 3 buddies, he is also the leader of a group of bank robbers who pride themselves in stealing what they want and getting out clean without getting caught. The movie is based on bank robberies that happened in Charlestown, Boston back in the day. Charlestown was known for bank robberies back in the day. They even had a quote in the movie saying  "There are over 300 bank robberies in Boston every year,'' a voice over says. "Most of these professionals live in a 1 square mile neighborhood called Charlestown.' Doug never has to fear losing anyone close to him. But that all changed on the gang's latest job, when they briefly took a bank manager, Claire Keesey (Rebecca Hall) hostage. Though they let her go unharmed, Claire is aware that the robbers know her name and where she lives. She then falls in love with a nice guy Doug, who she doesn't know was very same guy that terrorized her few days earlier.  The movie follows the journey of the 4 friends and them planning heists to rob banks, Doug falling in love, and their run ins with police.  You got a majority of action, drama and some romance.
Overall I would rate this movie a 9.5 out 10. It is an amazing movie! It has a great story line and the acting was well done throughout the whole movie. I would recommend this movie to all Ben Affleck's fans, and action movie fans. I can't wait until it comes out on dvd, I am definitely going to buy a copy. This is a movie you can watch numerous times over and over and not be sick of it because of the great story line and acting. Other than Inception, this is the 2nd best movie that has come out this year.